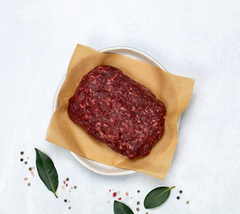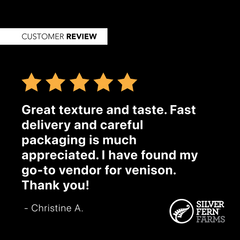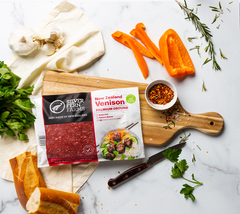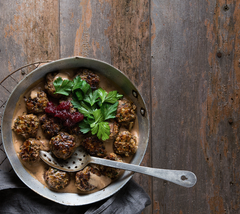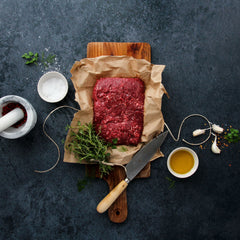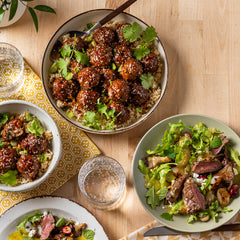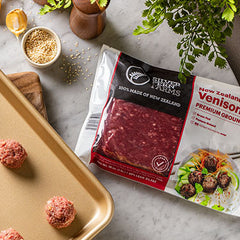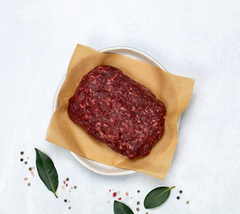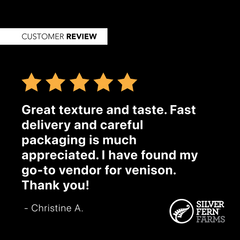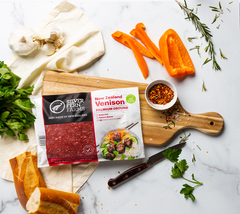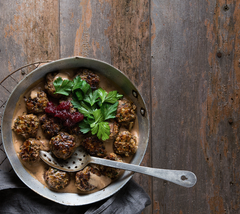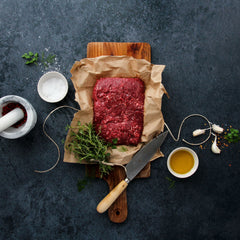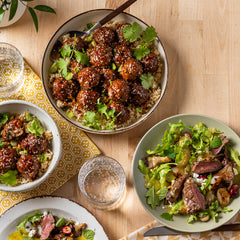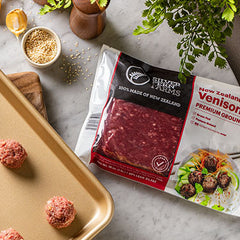 Venison
Premium Ground Venison
Restaurant grade quality and flavor
$11.78 per pack | Pack weight: &nbsp1 lb
Silver Fern Farms
SKU:
16226
Raised on lush, New Zealand pasture, our premium ground venison is as good as it gets. This lean and deliciously distinctive protein offers a healthy new way to enjoy a wide range of popular dishes – from rich Bolognese sauces to Thai lettuce cups and Swedish meatballs.
Pasture raised
What does that mean?
When choosing high-quality venison, it's important to seek out grass-fed, pasture-raised options as it delivers a leaner meat that is distinctive and delicate in flavor and perfectly suited to a broad range of meals. We take pride in delivering the same level of quality every time. So, whether you're looking for a quick and easy meal or a premium protein alternative – our venison is an excellent choice.
 
We're lucky in New Zealand. Our climate is ideal for deer, which means we can raise them outside in pastures, where they eat grass all year round. This improves the quality of the meat and requires minimal intervention, making it a much more natural and sustainable way to farm.  By optimizing our natural resources and implementing low intensity farming practices, we can minimize our impact on the environment.
No Added Hormones. Ever
What does that mean?
It might surprise you to learn that many meat producers use added hormones to increase the growth rates of their livestock. While this may boost productivity, it creates an unnatural life cycle for animals. At Silver Farms we prefer to let nature do its work, which means our animals are never given added growth hormones.
How does that effect the meat?
Added growth hormones are a common feature of high-intensity farming, which places animals under greater stress than they would otherwise experience. Ultimately, we believe this has a direct impact on the quality of the meat. So, down here in New Zealand, we prefer to take our time and let the meat and its incredible flavors develop the way nature intended.
Arrives Chilled
What does that mean?
When you order your meat online from Silver Fern Farms, it is sent directly to you, frozen. Shipping it frozen means we can preserve its freshness, flavor and nutritional value as it will be protected from spoilage, contamination and degradation during transportation. It's a great way to ensure that our products are always of the highest possible standard when they reach your door. When you're ready to cook the product, we recommend that you transfer your meat to the refrigerator to defrost fully.
How does that effect the meat?
Lamb and venison products, when held at storage temperature of -0.4°F (-18°C) are able to achieve a storage life of 36 months. Beef products, when held at a temperature of -0.4°F (-18°C) are able to achieve a storage life of 24 months.
QUALITY COMMITMENT
We stand by the quality of our products; we track each and every order ensuring it makes it to your delivery location. If our products don't arrive chilled within 5 days*, you get your money back, guaranteed.
* Based on delivery and website terms and conditions.
The Cut
More Information
Our premium ground venison is made from highest quality boneless and seamless cuts, which are then carefully trimmed and minced for optimal taste and texture.
Cooking Tips
Cooking time
3-4
Best cooking method: pan frying
Remove from packaging, cover and bring to room temperature.
Season the venison with salt and pepper.
In a large frying pan, heat 2 Tbsp oil over medium-high heat.
Add venison to fry pan and cook until the meat is browned.
Recommended Recipe
Nutritional information
Health Benefits
Nutritional information
Servings per pack: 4
Serving size: 4 oz (112g)
Quantity
per serve
Quantity
per 100 g
Fat - Total - Saturated
5 - 2.5
7 - 13
Carbohydrates - Sugars
0 - 0
0 -
Frequently Asked Questions
Delivery
Absolutely. You will receive an email with a tracking number from FedEx after the order ships which will display the estimated delivery date and allow you to monitor delivery progress within the FedEx platforms. You can also access this information under when you are logged into our website under 'My Account'.
It may take up to a week for your order to arrive (longer during the holiday periods). We ship directly from our warehouse in Kansas.
We ship Monday through Wednesday (packing cut-off is Wednesday 12noon Kansas time) every week, so packages typically arrive Tuesday through Saturday.
If you have not received your order 5 days after your shipping confirmation email, please contact our customer service team for further support - Click the 'Support' button on the website, or please email SupportUSA@silverfernfarms.com.
Delivery costs are as follows:
Free delivery on orders over $200,
$19 for orders valued $150 to $199.99,
$25 for orders less than $150
All orders should be retrieved as soon as possible. We pack the shipment with enough dry ice to facilitate the delivery, but packages should not remain outside longer than 2-4 hours after delivery. When retrieved within that time window, your meat should arrive refrigerator cold—below 40°F as measured with a food thermometer. Note: We cannot refund parcels which have proof of delivery but then go missing from the final delivery location.
Product
If your order is still partially frozen or very cold to the touch like you've just taken it out of the refridgerator it is safe to re-freeze, although there may be a loss of quality due to the moisture lost through thawing.
Due to the seasonal nature of our farming in New Zealand and our remoteness to foreign countries, Silver Fern Farms has developed are large range of frozen beef, lamb and venison products. This enables Silver Fern Farms to supply high quality frozen beef, lamb and venison to markets throughout the year and around the world.
Lamb and venison products, when held at storage temperature of -0.4°F (-18°C) are able to achieve a storage life of 36 months. Beef products, when held at a storage temperature of -0.4°F (-18°C) are able to achieve a storage life of 24 months.
The storage life has been determined following shelf-life performance evaluation trials conducted under standard frozen storage conditions.
If the meat is still in its vacuum sealed packaging, it will have a refrigerated shelf life of 25 days, however just like any other fresh meat once the sealed packaging has been opened you should consume as soon as possible.
All of our beef and lamb products are halal. Our venison is not halal.
Quality red meat delivered to your door.
Expand the flavor
You may also like
Premium Ground Venison
Nutritional information
Servings per pack:
Serving size: