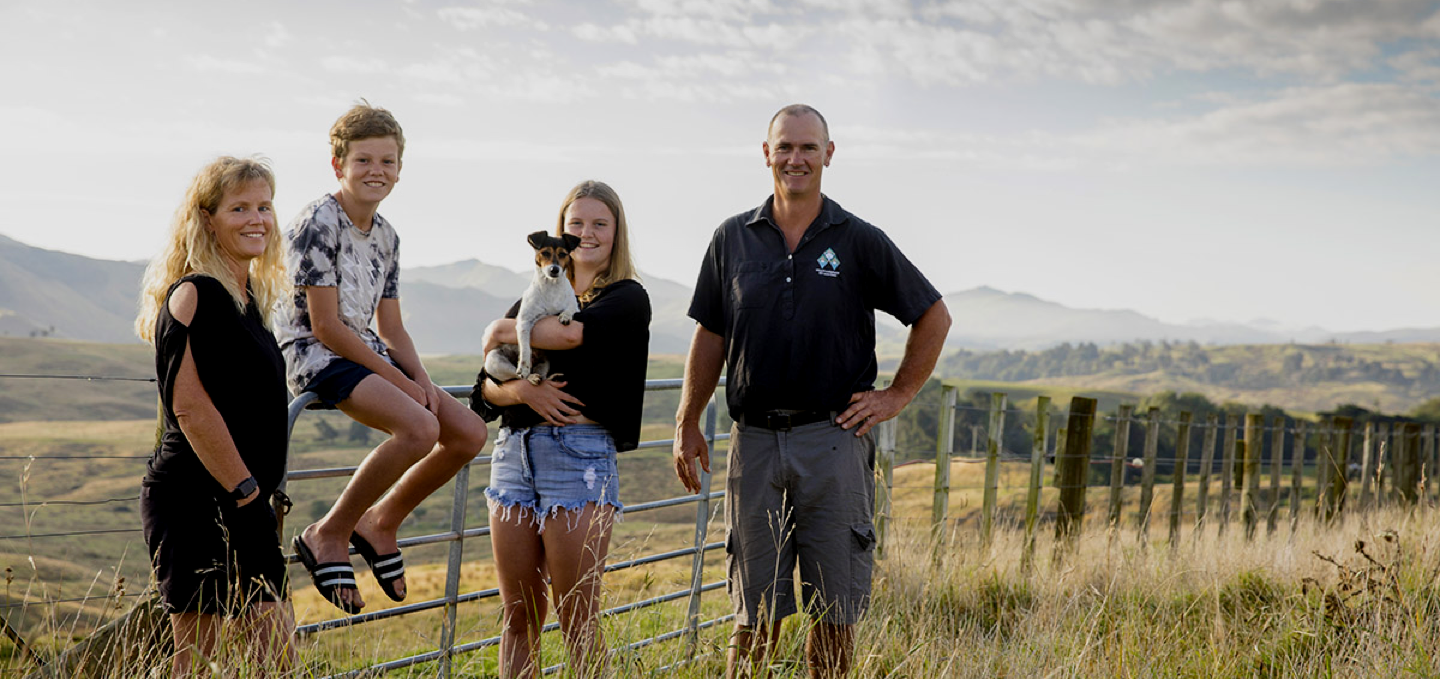 Meet our farmers
At Silver Fern Farms, we are more than just our meat. We are a close-knit community of passionate, hardworking farmers who honor the lives of the animals, the land we call home, and the responsibility of feeding communities all over the world.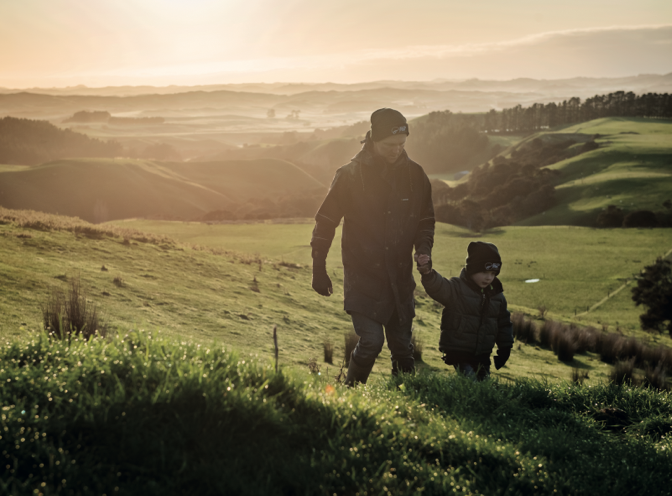 More than just a livelihood
Farming is more than just a job for the Silver Fern farmers: it's a way of life. They raise cattle, sheep, and red deer as a means to support their families, of course — but they also do it to protect the land and nourish their communities. In many cases, these farms have been passed down from generation to generation. As children, our farmers learned from their parents and grandparents how to work the land and tend the animals. And much like their forebears, they're passionate about not only teaching younger generations to farm, but also about nurturing and improving the land so that future generations may thrive. These farms (or stations, as we Kiwis like to call them) are places of gathering and support. They're places where friends, family, and loved ones join forces to care for the animals and the land, and then, after a hard day's work, sit down together for a hearty, delicious meal.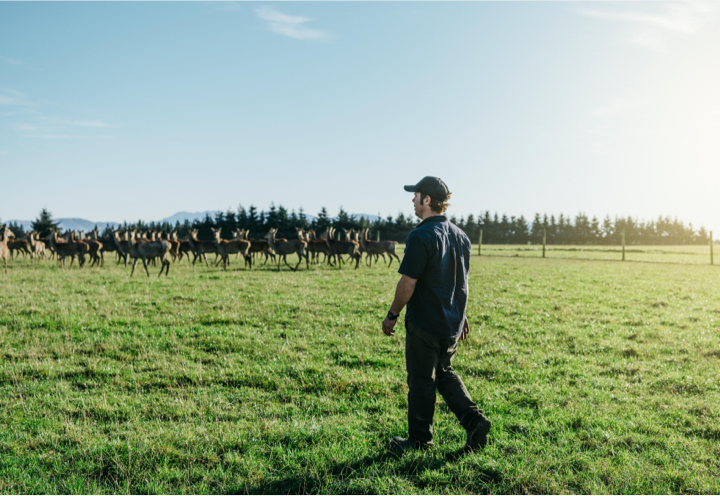 A light touch
Spend a day with any of our farmers, and you'll quickly notice their resourcefulness, resilience, and exceptional work ethic. But you'll also notice that they are open-minded, openhearted, and easygoing. All of these attributes play a role in how they raise their animals. Our farmers work hard because they have a deep respect for their animals and the land, but they're careful to use a light touch so their cattle, sheep, and red deer can lead as close to a natural life as possible. And they do that because it's the right thing to do — for both the animals and the environment.
Beef
Angus & Esther Mabin
Central Hawke's Bay.
The property is a springtime dream: beautifully manicured lawns and hedges, a tranquil lake, a tennis court and pool, and ducks waddling through the family's adjacent daffodil farm.
Deer
Ben and Raewyn Gaddum
Tuapae Farms, Hawke's Bay.
The Gaddum family story of hard work and determination has carried through generations, resulting today in the finest natural pasture-raised Silver Fern Farms venison in the country.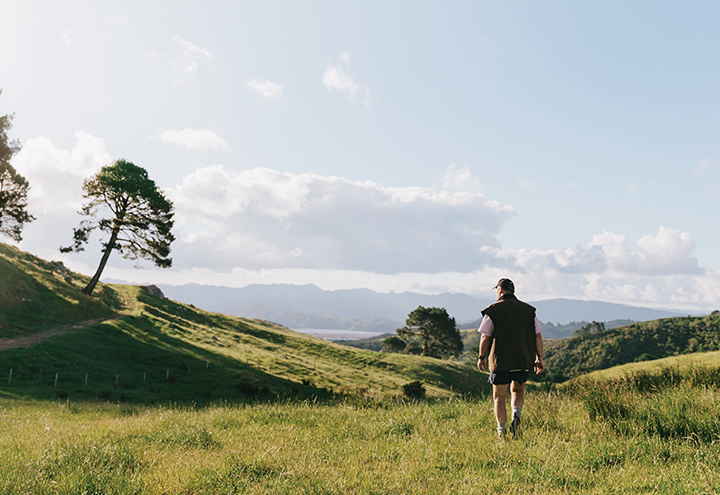 Sustainability
Farming
Minimizing our impact
Since most of the land in New Zealand is unsuitable for crops, pastoral farming is a highly sustainable alternative. Silver Fern farmers also use a natural abundance of rainwater to grow the grasses that feed livestock, and they adhere to low-intensity farming practices to minimize environmental impact.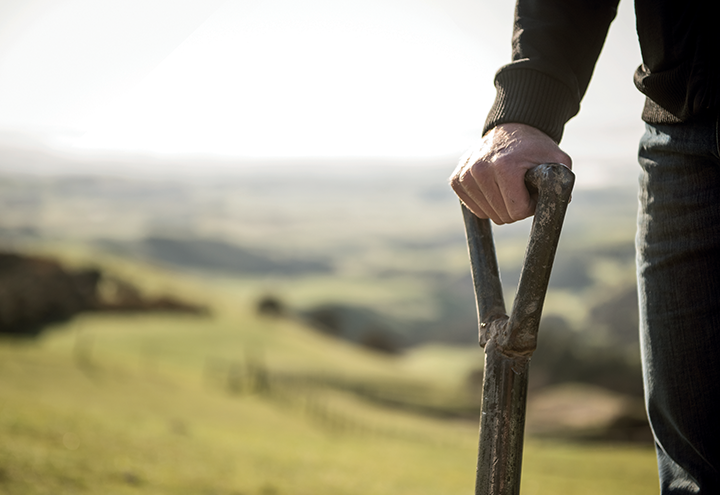 Sustainability
Conservation
Improving land for the future
Many of the Silver Fern farmers are involved in conservation initiatives such as restoring native biodiversity, weed and pest control, and improving local habitats and waterways. They also actively address erosion through fencing and planting trees. In fact, since 2000, New Zealand farmers have protected about 320,000 hectares of erosion-prone hill country.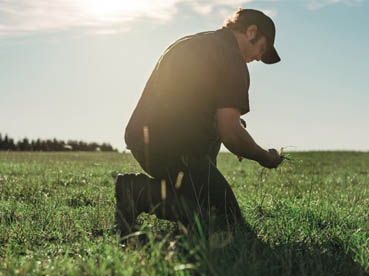 A taste of New Zealand
As home to an abundance of sunshine, clean air and water, rich soil and flora, and a uniquely diverse terrain, New Zealand is one of the best places in the world to raise livestock — our red meat has a taste and texture unlike any other.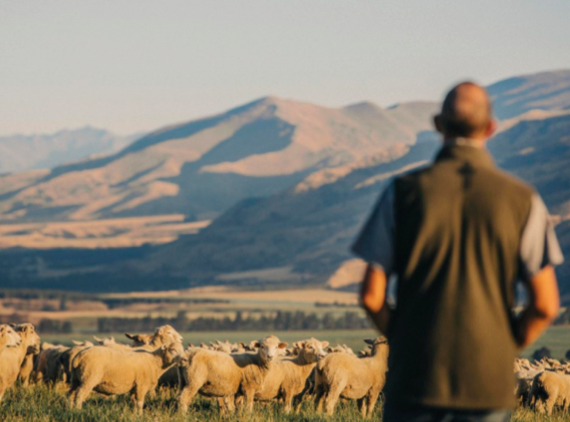 Our story
Since the founding of Silver Fern Farms in 1948, we've not only become New Zealand's leading procurer, processor, marketer and exporter of premium lamb, beef and venison — but also an industry leader in both environmental sustainability and the humane treatment of animals.
---
Taste the Difference
We produce tender, flavorful red meat while also nurturing and honoring the animals, the environment, and the community. That's the Silver Fern Farm difference.