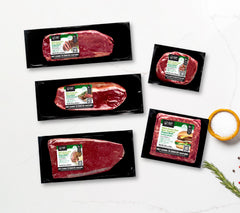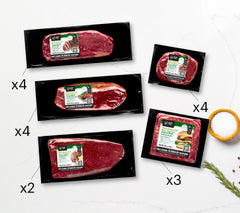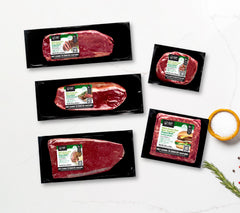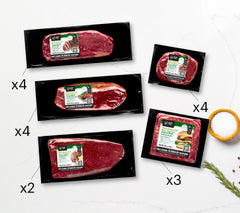 Bundle
Ultimate Net Carbon Zero Beef Meat Box
Silver Fern Farms
SKU:
9410023
Enjoy a curated selection of 100% Grass-Fed Net Carbon Zero Beef from New Zealand.

This curated meat box contains tender rib-eye steaks, juicy new york strip steaks, succulent top sirloin steaks, flavorful premium ground beef, and our new London broil beef. The best selection of our best-selling Net Carbon Zero Beef products.
What's included?
Total 12 lb of products in this meat box:
4x Net Carbon Zero Rib-Eye Steaks 10oz | 4x Net Carbon Zero New York Strip Steaks 10oz | 4x Net Carbon Zero Top Sirloin Steaks 8oz | 3x Net Carbon Zero Premium Ground Beef 1lb | 2x Net Carbon Zero London Broil 16oz
100% Net Carbon Zero. 100% Grass-Fed Beef. No Added Hormones or Antibiotics EVER. Ships Frozen.
QUALITY COMMITMENT
We stand by the quality of our products; we track each and every order ensuring it makes it to your delivery location. If our products don't arrive chilled within 5 days*, you get your money back, guaranteed.
* Based on delivery and website terms and conditions.
At Silver Fern Farms, doing right by people, animals and the environment is part of who we are – it's in our nature. That is why we are proud to introduce New Zealand's first certified* Grass-Fed, end-to-end Net Carbon Zero Beef.

*USDA approved and Toitū Envirocare certified.
Ultimate Net Carbon Zero Beef Meat Box
Delivered from our pastures to your doorstep
Expand the flavor
You may also like
Ultimate Net Carbon Zero Beef Meat Box
Nutritional information
Servings per pack:
Serving size: