Ingredients
2 Packs of Silver Fern Farms Venison Roast (

28 oz)

½ cup harissa
2 Tbsp extra-virgin olive oil, divided
8 medium greentop carrots, trimmed, cut into 3-inch pieces on a diagonal
1 shallot, halved
2 garlic cloves, smashed
1 Tbsp balsamic vinegar
1 ½ cup beef stock, divided
1 tsp kosher salt, plus more to taste
½ tsp freshly ground black pepper, plus more to taste
2 Tbsp unsalted butter
½ cup fresh radicchio leaves, torn
Lemon wedges, for garnish
½ cup fresh basil leaves, for garnish
Method
Step 1
In a ziplock bag, combine the venison roast and harissa paste, seal and marinate for 8 hours.
Step 2
Preheat the oven to 325° F. Remove the roast from the fridge and allow it to come to room temperature for 30 minutes.
Step 3
In a 4-quart Dutch oven, bring 1 tablespoon of the olive oil to medium-high heat. Add the carrots and shallots and cook for 7 to 10 minutes, stirring occasionally, until the carrots are starting to brown.
Step 4
Add the garlic and balsamic vinegar and cook, stirring, for another minute, or until fragrant.
Step 5
Carefully add 1 cup of beef stock and stir to deglaze the bottom of the Dutch oven.
Step 6
Sprinkle 1 teaspoon salt and ½ teaspoon black pepper over the roast, reseal the bag, and massage the seasonings into the roast. Remove the roast from the bag, and place it on top of the carrots.
Step 7
Transfer the uncovered Dutch oven to the oven and cook for 40 to 50 minutes, or until the internal temperature of the roast reaches 120° F on an instant-read thermometer.
Step 8
Transfer the roast to a plate, tent with aluminum foil, and allow it to rest for 10 minutes before carving.
Step 9
Turn the oven up to 500° F, put the Dutch oven back in the oven, and cook the carrots for 5 to 7 minutes more, or until the stock has almost evaporated. Remove the pot from the oven and plate the carrots on a platter.
Step 10
To make a quick pan sauce: In the Dutch oven, combine the remaining ½ cup of beef stock and 2 tablespoons of butter, and bring them to a quick simmer for 5 minutes. Strain the pan sauce into a bowl, and season it with salt and black pepper.
Step 11
Spoon the pan sauce over the carrots, layer the radicchio in around them, and squeeze lemon juice on top.
Carve the roast into ½-inch slices, cutting against the grain, and fan it on top of the carrots. Garnish with basil and lemon wedges and serve hot.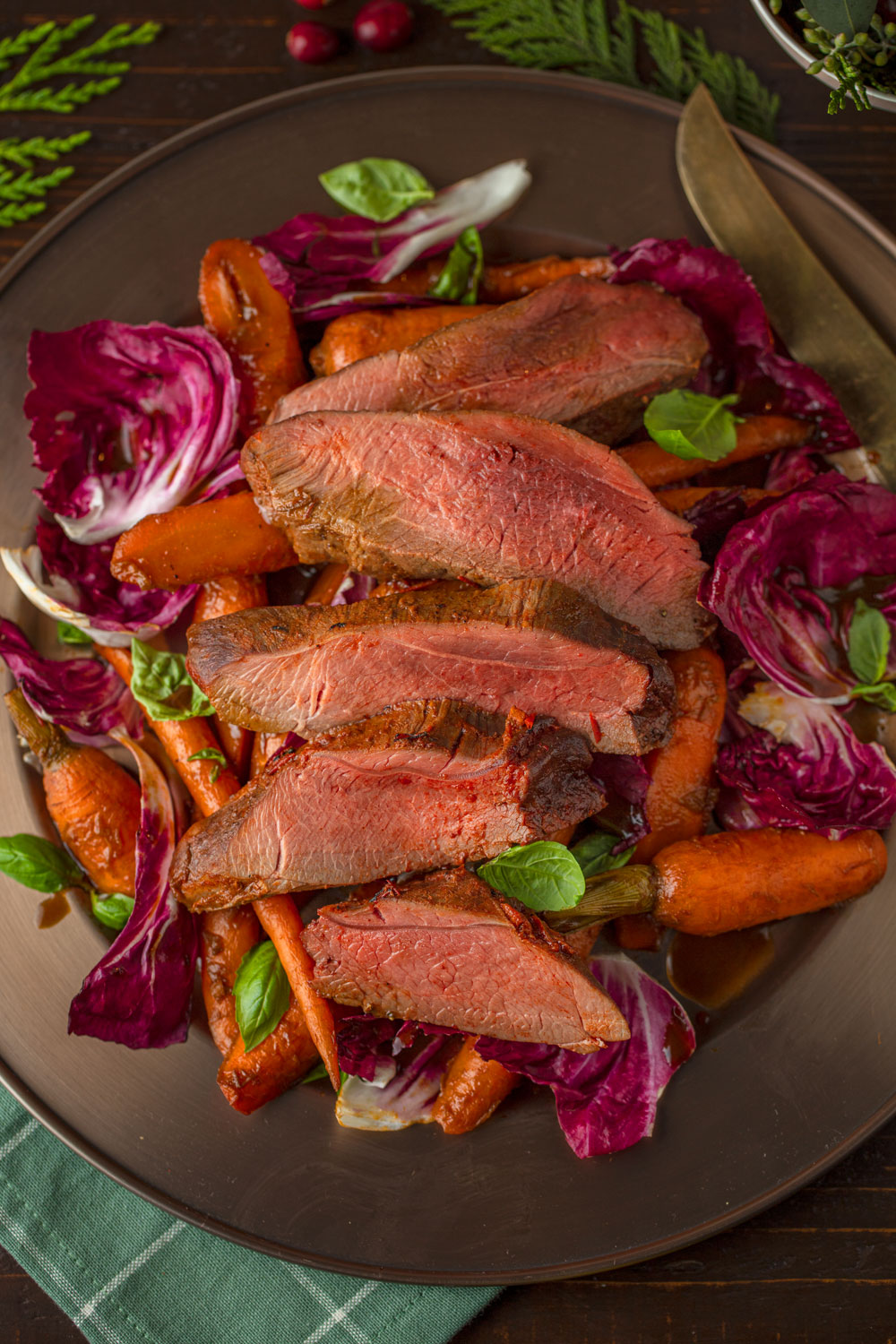 Ingredients
2 Packs of Silver Fern Farms Venison Roast (

28 oz)

½ cup harissa
2 Tbsp extra-virgin olive oil, divided
8 medium greentop carrots, trimmed, cut into 3-inch pieces on a diagonal
1 shallot, halved
2 garlic cloves, smashed
1 Tbsp balsamic vinegar
1 ½ cup beef stock, divided
1 tsp kosher salt, plus more to taste
½ tsp freshly ground black pepper, plus more to taste
2 Tbsp unsalted butter
½ cup fresh radicchio leaves, torn
Lemon wedges, for garnish
½ cup fresh basil leaves, for garnish