Cooking time: 3-4H on high, 6-7H on low
Ingredients
24 oz Silver Fern Farms Beef Chuck Roast
1 Tbsp olive oil
1 tsp paprika, smoked
1 tsp oregano, dried
1 tsp cilantro, ground
1 tsp cumin, ground
1 clove garlic, crushed
1 tsp flaky salt
1 Tbsp olive oil, extra
½ cup red wine
1 cup beef stock
¼ cup cilantro, chopped
Pomegranate Sumac Dressing:
¼ cup pomegranate seeds
1 Tbsp lemon juice
1 tsp honey
½ tsp sumac
Harissa Sweet Potatoes:
2 lbs sweet potatoes
1 Tbsp harissa paste
1 Tbsp olive oil
Method
Step 1
Remove the Silver Fern Farms Beef Chuck Roast from the fridge and packaging and allow to bloom at room temperature for 10 mins.
Step 2
Combine the olive oil, smoked paprika, oregano, cilantro, cumin, garlic and salt. Rub onto the beef.
Step 3
Heat the extra olive oil in a frying pan over medium heat. Add the beef and brown on all sides, taking care not to burn the spices. Remove from heat and place beef and any cooking juices into a slow cooker.
Step 4
Add the red wine to the pan and cook for 1 to 2 mins to deglaze the pan. Add the beef stock and bring to the boil. Pour liquid into the slow cooker. Cook for 3 to 4 hours on high or 6 to 7 hours on low setting, until the beef is very tender.
Step 5
Remove beef from the sauce and, using two forks, pull apart. If desired, reduce the sauce - place into a saucepan and reduce over high heat until thickened. Return beef to the sauce.
Step 6
Meanwhile, prepare the dressing. Place the pomegranate seeds into a small bowl. Mash with a fork to release some of the juice. Add the lemon juice, honey and sumac. Season to taste with salt and pepper.
Step 7
Place the pulled beef onto a platter with the juices. Garnish with the chopped cilantro. Serve with the dressing, Harissa Sweet Potatoes and a chopped salad of tomatoes, cucumber, red pepper, red onion, mint, parsley, and cilantro.
Step 8
To prepare Harissa Sweet Potatoes, scrub and cut 2 lbs sweet potatoes into wedges. Combine with 1 Tbsp harissa paste and 1 Tbsp olive oil. Place onto a baking tray lined with baking paper and cook at 375°F for 25 – 30 mins until tender and crispy.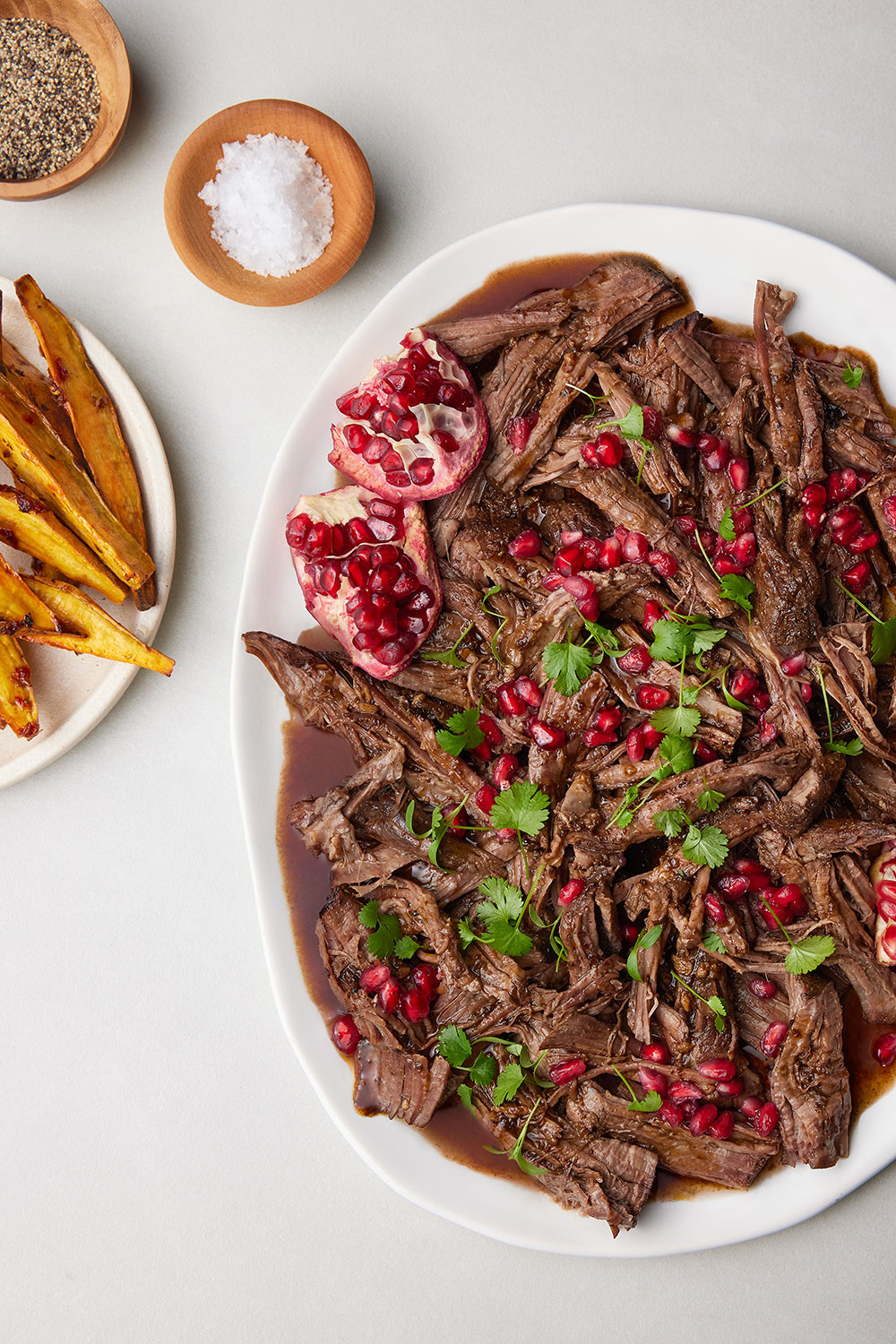 Ingredients
24 oz Silver Fern Farms Beef Chuck Roast
1 Tbsp olive oil
1 tsp paprika, smoked
1 tsp oregano, dried
1 tsp cilantro, ground
1 tsp cumin, ground
1 clove garlic, crushed
1 tsp flaky salt
1 Tbsp olive oil, extra
½ cup red wine
1 cup beef stock
¼ cup cilantro, chopped
Pomegranate Sumac Dressing:
¼ cup pomegranate seeds
1 Tbsp lemon juice
1 tsp honey
½ tsp sumac
Harissa Sweet Potatoes:
2 lbs sweet potatoes
1 Tbsp harissa paste
1 Tbsp olive oil